Today, we'll finish up a discussion that was started last week on the role of the millennial generation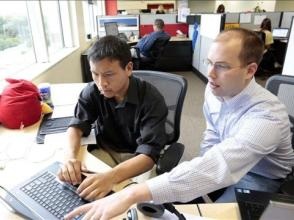 (those currently ages 18 – 35) in the real estate industry. 
The original topic was sparked by new research showing that millennials are delaying getting into the real estate market (as first time buyers) compared to previous generations. 
The question I posed last week was:
Do you believe it takes a while for a person to mature to the place where they are ready to perform the tasks of a real estate agent?
Or, do you believe the agent job can be equally performed by any age group?
Thank you to those who took the time to share your thoughts.
Across the board, not too many people came to the defense of the millennial generation.  In general, most of you seem to believe that individuals in this age group may need to mature before taking on the tasks and responsibilities of a real estate professional.
Thomas Maier, a broker/manager for Berkshire Hathaway Home Services Carolinas Realty, disagrees:
I believe that any age can make a fantastic Realtor.  I feel the primary ingredient must be that they desire to make this a career and know they must invest long hard hours early on to see the sustainable return on their investment. 
In the same way some of the millennial generation lack patience due to the "now" attitude of our technological society the older "new" agents sometimes lack patience for a different reason.  They often see this as a quick or last ditch fix to try to create income for retirement and do not feel they have the time to build for the future. 
In our area many of the top 20 agents industry wide are under 40.  They are the ones who start young, have vision, put in the work, and built a solid foundation early on.  They see this as a career and that they own a business, not a stepping stone or hobby along the way.
As a side note, Thomas is part of the millennial generation.  He started working in real estate soon after college, focused his efforts on building a successful business, and lived what he described.  There is no doubt that some millennials have been very successful in real estate.
But, are there enough individuals like Thomas (and his high performing peers) to fix the demographic problem (large number of existing agents are 55 or older) outlined in last week's WorkPuzzle?
Scott Nelson, owner and CEO of Comey and Shepherd Realtors in Cincinnati, thinks that focusing recruiting efforts on millennials is a mistake.  Here are his thoughts:
[Hiring millennials] makes sense on paper, but we sure haven't seen it [work out consistently].  In fact, we had four or five under thirty quick in/quick out hiring failures in our Mariemont office last year, to the great discouragement of our manager there. 
[Our recruiting team] has talked about a quality we call "being settled" that an under thirty needs to possess before they really transition to the real estate industry as something more than an alternative to waiting tables. 
Being settled could mean being married or partnered up "permanently".  It could also mean that spouses or partners have a solid, real job.  While those are not the only characteristics, they do have to be serious and focused on their careers.
Absent being settled, these young folk seem to be drifting and real estate is deadly for them. They don't have the discipline it takes.
I think the [millennials home-buyer marketing sketch] supports the view that entry age for new agents is rising, not falling.  The delaying of everything by pampered millennials means, to me, that those under 35 are rarely appropriate for our business. 
In the millennial generation, everyone's a winner and everyone gets a trophy just for showing up!  This translates into tolerance for later bloomers, semesters in Europe, moving back in with the parents after college. 
That's the world we live in and I think it means we will largely continue to replace our retiring agents with the" settled" 40-55 year-olds.  These fresh 40 – 55 year olds tend to give us 10-15 productive years.  That's just what we need.
Of course, there are exceptions to this rule—we'll welcome anyone who can focus their talents on real estate and create a successful business.  But, the exceptions are rare.
Scott owns one of the highest performing companies in the country (on a per agent productivity basis), so he admits his company is very selective in hiring new agents compared to most companies.   He is very passionate (and made a life-long study) about finding the best fit for those who become agents in his company.
Not sure I can add much to what has already been said by Scott and Thomas—two different perspectives that were both well articulated.  You'll have to make up your own mind on what works for your company.
This I do know, the discussion will continue and the puzzle of hiring the best people may never be fully solved.
---

Editor's Note: This article was written by Ben Hess. Ben is the Founding Partner and Managing Director of Tidemark, Inc. and a regular contributor to WorkPuzzle.