Earlier this week, I started a discussion on the disappointing impact the millennial generation is having on the real estate industry.  There has been lots of great feedback on this topic—thank you to all of those who have shared thoughts.
Today, we're going to address the impact this generation is having on real estate recruiting.  More specifically:
Is there a connection between the millennial generation's sluggishness to become first-time buyers and the way they approach their careers?
Before answering this question, let's lay a little ground work.  For the last couple of years, I have been using the following slide in my presentations: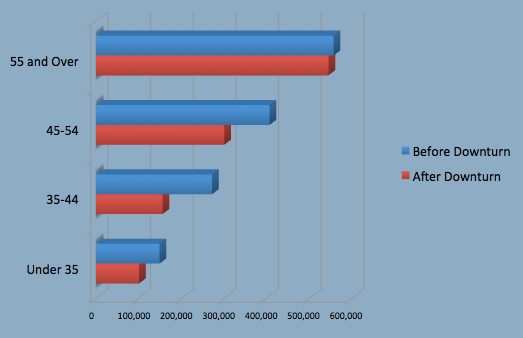 The y-axis represents the age ranges of real estate agents, and the x-axis represents total number of realtors in the United States.   It's obvious that the real estate industry is "top-heavy" with older agents, and the problem worsened during the downturn.   
There is a serious demographic problem that needs to be corrected.  Also, this correction needs to happen over the next 10-years as the older agents start to retire and lose energy towards the business.
So, this demographic problem needs to be fixed.  How do you fix it? 
Many assume (myself included) that the real estate industry needs to hire as many young professionals as possible.  The millennial generation (those currently 18 to 35) is a natural target for this fix.  
They are many in number, possess above average technology skills, and high percentages of them are underemployed.  They have limited career opportunities in the traditional employment market.
Is this not a match made in heaven?  It seems two cosmic problems (real estate needs new blood and millennials need meaningful careers) are coming together to form a perfect win –win solution.  Right?
Not so fast.  At least that's what some of you have been telling me.
There may be a problem with the capacity that many in the millennial generation have towards building viable careers.  They not only can't buy houses, but they also may have trouble focusing enough to develop a self-guided career.
Part of this conclusion is based on the real estate marketing sketch we did earlier this week (15.5% unemployment rate, 29% of those under 35 still living with their parents, $20K + in credit card debt, etc.). If they have financial problems keeping them from entering the real estate market, would some of the same problems also keep them from performing well in the role of a real estate agent?   It's certainly a possibility.
As one of our readers commented,  "It used to be that kids worked for their parents.  Now parents work for their kids." 
What are your thoughts on this topic?   Have you noticed a pattern with the millennials you've hired? 
Do you believe it takes a while for a person to mature to the place where they are ready to perform the tasks of a real estate agent? 
Or, do you believe the agent job can be equally performed by any age group?
Comment via email and I'll share some of your thoughts (with your permission) in the next WorkPuzzle.
---

Editor's Note: This article was written by Ben Hess. Ben is the Founding Partner and Managing Director of Tidemark, Inc. and a regular contributor to WorkPuzzle.