Earlier this week, I promised to share a couple of my favorite commencement speeches from the 2014 graduation season.
Hopefully you had a chance to read Marc Andreessen's simple, but profound advice on Twitter highlighted earlier this week: 
Do what contributes -- focus on the beneficial value created for other people vs. just one's own ego [ie. following your own dreams and passions].
My favorite commencement speech for 2014 grads builds upon this idea, but explains how "normal people" (folks like you and me) can truly change the world around them.
The speech was written and delivered by Admiral William McRaven at the 2014 University of Texas graduation ceremonies.  If you'd rather read the transcript than watch the video, the transcript is posted on the University of Texas website.  You can probably get through the transcript more quickly than watching the video.
However, if you have 20 minutes to indulge, watch a very humble 4-star Admiral masterfully dispense some of the best career advice I've ever heard: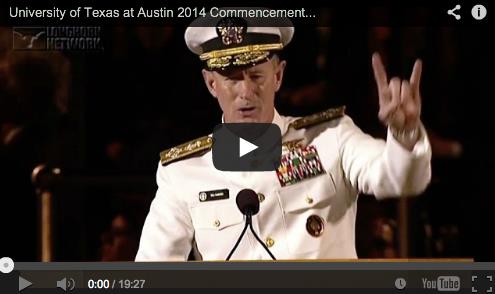 After watching (or reading) the speech, you may want to take away a summary of Admiral McRaven's advice.  Here is an outline of what he instructs:  
Start each day with a task completed (make your bed).
Find and connect with others to help you through life.
Respect everyone (measure people by the size of their hearts).
Know that life is not fair (keep moving forward anyway).
Know that you will fail often (get over it and don't give up).
Take risks to achieve new performance levels.
Don't back down from the "sharks."
Step up (exert extra effort and display the most fortitude) when the times are the toughest.
Understand the power of hope to lift up the downtrodden.
Persevere—never, ever give up.
There are not many of us who can be world-class athletes, movie stars, authors, politicians, business leaders, or even Navy Seals.  But, we can all apply these principles in our daily lives and impact those around us.
If you're responsible for coaching agents, these are traits that most humans have the capacity to access regardless of their natural talents.  A focus on these character traits and principles is something you can teach every one of your agents.
As Admiral McRaven noted, the impact of such coaching will have far reaching results.
---

Editor's Note: This article was written by Ben Hess. Ben is the Founding Partner and Managing Director of Tidemark, Inc. and a regular contributor to WorkPuzzle.